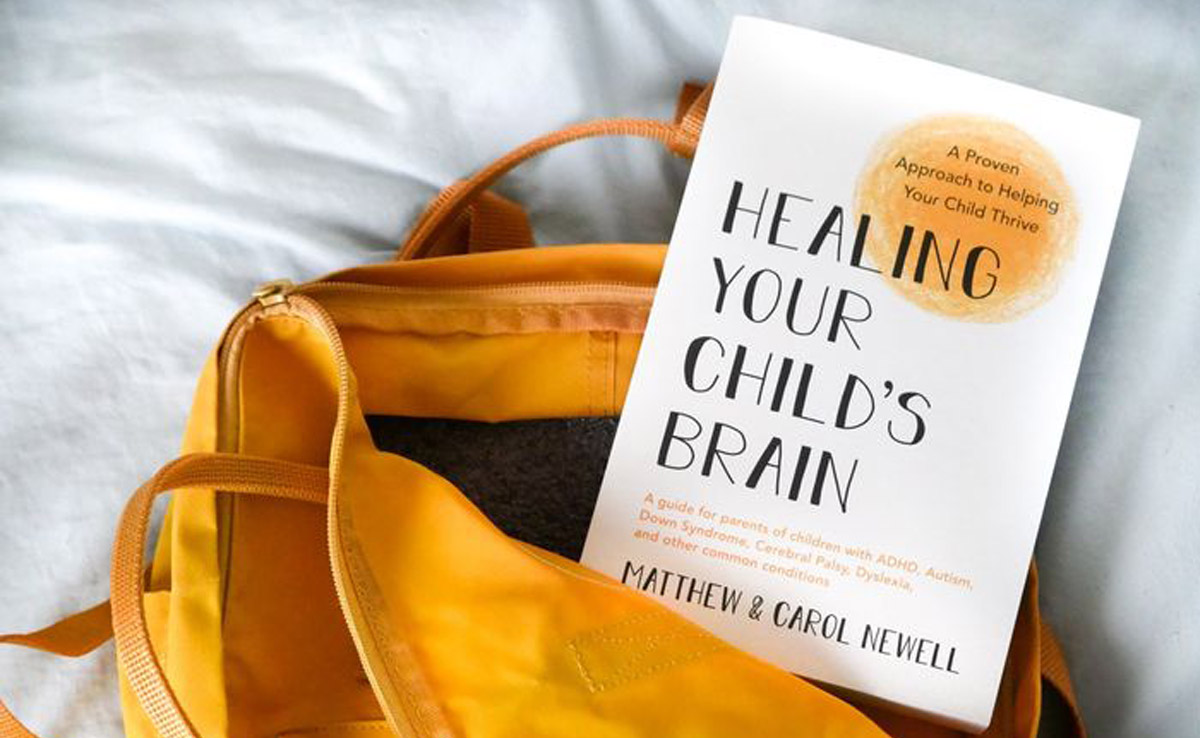 If you're the parent of a special needs child, please read this book. You will find an empowering and refreshing way of viewing your child's condition. The information presented here will help you to understand what is happening, to get to the root cause of the problem, and give you a road map for helping your child heal. Solid and well-documented multidisciplinary agenda in nurturing families who deal with the enormous challenges of raising an injured child, and the benefits that spill over to siblings and parents. . . This book provides a broad picture of previously unsuspected possibilities in neurological recovery and effective parenting. Mira Helena Bergkvist, MD
This book is so rich in enlightenment and knowledge of how parents or other close relatives can bring hope and development to children and adults suffering from neurological disorders.
Physician Testimonials From The Book
Liz Strawbridge, MD
Main Integrative Healing
After suffering a stroke and severe meningitis, my 4-year-old son was left with right sided motor impairment, difficulty with short and long-term memory, spatial disorientation and sensory processing issues. As many parents who suffer the trauma of having a brain-injured child, we could see his heart and soul were still bursting with abundant life and beauty.
As a physician, I was very familiar with the conventional treatment plan of PT and OT laid forth by his brilliant team of doctors at Boston Children's Hospital. I was struck by how these therapies addressed the symptoms (muscle weakness) rather than the root of the problem (a hurt brain). It made much more sense to me that we should be working on creating new neurological pathways rather than trying to fix the manifestation of the broken ones to work.
Madhavi Gupta Dyen, MD
Board Certified Neurologist
When I had my son, I felt many of the things that parents who learn that their child has neuro-development issues do: fear, a sense of loss, and more fear. If I knew what I know now, fear wouldn't even be in my vocabulary. We had been lucky enough to be directed to the Family Hope Center when my son was an infant.
With a diagnosis of Down syndrome and a very nasty bout of a rare seizure type, my son has gone beyond 'thriving.' He is remarkable. He talks, walks, jokes, loves, reads, and laughs like the master of his world that he is.
We continue to expand his brain by use and the principles of the neuro-development program taught to us by the Newells and the specialists at the Family Hope Center. There are no limits to what my son can achieve. I credit the sound principles, based in science and core neurology, and his team for helping him get there.
Dr. Shirley-Anne Jourdan, MD, GP
South Africa
I came to the Family Hope Center course as an exhausted parent, a frustrated wife, a disillusioned academic, and a resistant medical not-so-professional. I did not believe that 3 days of talking about what I presumed to be neuro-pseudo-science would change my outlook forever. I came heavily armed and guarded with a career of preconceived ideas, arguments, opinions, and training about neuro-development. And I was gently persuaded to pack my weapons away without giving up the science.
The Family Hope Center has the heart of the Healer that I have always longed to cultivate more fully – one who promotes ability and does not stop at disability. The Center focuses on ease, not disease; on full function, not dysfunction, on treats and not just treatment, on joy and not on sadness.
Healing Your Childs Brain
$10.55 USD
For more than 40 years, we've studied the neurological origins of disabilities in children and incorporated knowledge from global experts in complementary disciplines.
As our understanding deepened, we developed practical, effective ways of promoting and measuring neurological healing and growth in children.
We had to apply everything we learned to two of our own children with disabilities to help them overcome their limitations and become the independent, well-adjusted, productive, responsible adults they are today.
This transformative experience drove us to dedicate our lives to making this knowledge accessible to parents all over the world so that they, too, can help their children heal and grow.
This book distills for you everything you need to know to help your child thrive.
Get The Book Today
Hear From Parents Who Have Improved Their Childs' Brain Function
Hear From Parents Who Have Improved Their Child's Brain Function
Read What Parents Who Have Improved Their Child's Brain Function Have To Say
L and A's 14-year-old sister
Four years ago, my family was on the verge of breaking. We were scared, and unsure of our future. We were in desperate need of help with my siblings, and trying everything we could think of, but nothing seemed to work. I was only ten years old at the time, and I often found myself frightened of my little brother's outbursts and feeling neglected by my baby sister. I knew what autism was but didn't understand it. I wanted to help but didn't know how. But just when we thought we had tried everything, hope made its way to us.
That summer, my mother attended the Family Hope Center's three-day parent course and brought back the news that there was still a chance. She was ecstatic and could hardly contain her excitement.
We are a family of six. My husband and I have four children. Our second child started receiving services for autism at age two and a half. We were very proactive and diligent in seeking therapies and advice from the best, but after nine years of speech, occupational, physical, and behavioral therapies, [my son], at age eleven and a half, still struggled immensely and was functioning at 35 percent brain function, or as a two- or three-year-old.
Our two biggest fears when considering traveling to the Family Hope Center were: Is [our son] too old? And Are we strong enough to even try? Fear can be quite crippling and it's not easy to keep trying, buy our family couldn't deny our feelings of discontent and restlessness.
We didn't realize our child had special needs until he was about twelve years old. He just seemed quirky, and like a very bright young man who just didn't want to do schoolwork and couldn't get along with people. I was embarrassed by his actions most of the time and was getting desperate for help.
My loving friends told me about the Family Hope Center and dragged me to the three-day parent training. At the training, many of the behaviors I'd observed were no longer a mystery.
Though I knew this would help my son, I felt like I didn't really belong in the program since my child would walk, talk, and read. Matthew [Newell] acknowledged my concern and told me that many times, kids like mine are the most misunderstood and will benefit tremendously from getting organized. Whew! I knew I was in the right place.
Amanda and Danie van der Walt
Greetings from South Africa! I attended the Parent Training Course in February this year. With her first evaluation I did [during] the Parent Training Course, our daughter was neurologically two and a half years behind her chronological age, and she was at 70 percent degree of function.
For six months we only did the Family Hope Center program and reflex integration of five reflexes that were still active. We also had three craniosacral sessions. I evaluated her again after three months on the program and as astonished at the improvement she'd shown. (Not to mention the difference we'd already seen in her behavior, emotions, and actions at that point!)
Our seven-year-old daughter had learning and socializing difficulties during first grade (of elementary school).
Before [beginning] the [recommended] program, she displayed many physical symptoms, including abdominal pain and constipation, headaches, trouble sleeping, and excessive sweating in her hands and feet.
She had difficulty concentrating; cried when she didn't get her way or was unable to explain her feelings; exhibited compulsive behaviors with food, mood swings, sensitivity to sounds; had difficulty making friends or sharing; and suffered low self esteem.
I will admit that as an acupuncturist who has spent a ton of time studying nutrition, I didn't expect to learn much from the nutrition [part of the Parent Training Course]. When I brought my son to the Family Hope Center, I already knew how important diet was.
As a child with an impressively rare genetic disorder that causes epilepsy, global delays, and a long list of challenges, [my son] was already on a diet full of whole, organic foods, and void of gluten or dairy to avoid inflammation and a leaky gut.
Get The Book Now
Dr. George Goodwin, MD
Internal medicine physician at Fort Belvoir Community Hospital,
US Army colonel, and former Director of Disability Evaluations
at the Office of the Surgeon General
"Foreword to Healing Your Child's Brain"
As an internal medicine physician with more than twenty years of experience, I carried a high degree of skepticism toward alternative treatment systems that had not already been clinically proven. I received my doctor of medicine from the Uniformed Services University of the Health Sciences in Bethesda, Maryland. I am board certified in internal medicine. I had the privilege to serve for over twenty-five years in the army. During my career, I was deployed twice, serving our soldiers in both Iraq and Afghanistan. I also was the chief medical officer for a military medical facility at Fort Eustis, Virginia. I culminated my career as a colonel in the Pentagon overseeing the disability program for our wounded warriors and directing all the medical standards for readiness in the army. All this experience was within what would be considered traditional medicine.
Start understanding your child's brain!

Still unsure?
Let us contact you and discuss some options.